F I T N E S S    S C O R E
Fitness Score App can revolutionize approach for Fitness training by stimulating clients to reach better Fitness Score result, if they follow Fitness professionals' recommendations, moreover now it's very convenient online, because clients can test by themselves and send test result to trainer by email immediately. This approach is realized Digital Fitness idea.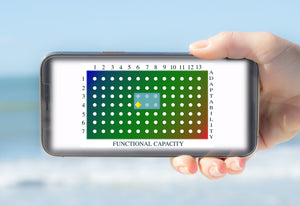 The Fitness Score
iPhone app allows you to monitor the physiological resources used before and after everyday activities such as exercise, drinking a cup of coffee, smoking a cigarette, a stressful workday, or sexual activity.

We welcome distributors to promote our Fitness Score iPhone app as well as Stress&Wellness (available on the App store).

Distributors PORTAL